Speakers, Staff and Presenters
David Cadman is a Harmony Professor of Practice at the University of Wales Trinity Saint David. He is a Trustee of The Prince's School of Traditional Arts and a Fellow of The Temenos Academy. David Cadman's recent publications include Speeches and Articles 1968-2012, a collection of speeches and articles of The Prince of Wales, of which he was co-editor.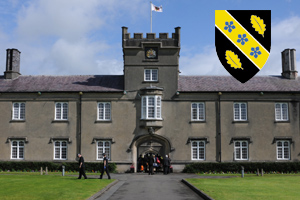 Nick Campion is Director of the Sophia Centre for the Cosmology in Culture and programme director of the MA in Cultural Astronomy and Astrology at the University of Wales Trinity Saint David, and the MA in Ecology and Spirituality (jointly with Schumacher College). He is Associate Professor in Cosmology and Culture. He is the Harmony conference organiser.
Jane Davidson is Pro Vice-Chancellor for External Engagement and Sustainability at the University of Wales Trinity Saint David. She is former Minister for Environment, Sustainability and Housing in Wales, where she proposed legislation to make sustainable development its central organising principle - the Wellbeing of Future Generations Act came into law in April 2015.
Tania Davies is Health Portfolio Programme Director at the University of Wales Trinity Saint David. She has a background in psychotherapy, substance misuse counselling for young offenders and working with disabled children under five.
Mike Durke is a Senior Lecturer in the Faculty of Business and Management at the University of Wales Trinity Saint David. His research interests include the diverse challenges of realigning public services in the UK, looked- after-children, and the challenges facing democracy and political structures.
Louise Emanuel is the Lead for Carmarthen Business Portfolio, Programme Director for BA Business Management, module tutor for Management Ethics, Entrepreneurship and Community Engagement for the BA Business Management programme, and tutor for Entrepreneurship on the online MBA programme, at the University of Wales Trinity Saint David.
Mickey Gordon (MBE), canoeist, youth worker, expedition leader, has been a regular visitor to the Nepalese village of Barpak since his first expedition in 1985 in order to locate the source of the Dudh Khosi river. He returned in 1988 for the Channel 4 film 'Thin Air White Water' and, since the earthquake of 2015, has been raising funds to assist with rebuilding and recovery.
Carolyn Hayles is academic lead for the Institute of Sustainable Practice, Innovation and Resource Effectiveness (INSPIRE) at the University of Wales Trinity Saint David, Carolyn has a responsibility to support sustainability teaching across the university as well as to develop INSPIRE's research profile.
Kevin Hodson is the University of Wales Trinity Saint David's chef and was part of the team which obtained the Food for Life Gold Catering Mark from the Soil Association for its banqueting and events services across all campuses.
Patrick Holden is the Founding Director and Chief Executive of the Sustainable Food Trust. He was the founding Chairman of British Organic Farmers in 1982 before joining the Soil Association, where he worked for nearly 20 years, during which time the organisation led the development of organic standards and the market for organic foods. He farms near Llandovery.
Jaime Jackson is a moving image and digital artist, interested in site specific projections on to and into buildings, working away from the screen using buildings and landscapes as canvas.
Sally Payen is an artist and activist and Salt Road director. Her many works include her Arts Council England funded 'The Fence and the Shadow', in 2017, a series of paintings based on her exploration and research about the contested landscape of Greenham Common and the women's peace camps of the 1980s.
Angie Polkey is a founder member of the Lampeter Permaculture Group. Her background in ecology and conservation helps her understand - and teach - the natural principles, patterns and processes that have inspired permaculture. She has a small-holding outside Lampeter.
John Sauven is a Harmony Professor of Practice at the University of Wales Trinity Saint David. He is the Executive Director of Greenpeace UK. He has co-ordinated many international campaigns including to prevent the destruction of the Amazon by soya producers and cattle ranchers and of deforestation for paper and palm oil production in Indonesia. He also writes for the Guardian online.
Tom Yearly is Head of Sustainability Delivery, University of Wales Trinity Saint David. He is a Chartered Environmentalist and Energy Institute European Energy Manager and is responsible for leading the Sustainability Delivery Team and delivering the University's sustainability objectives in respect to all of its operations.
Date & Time: Wednesday 14 March 9:30 am - 6:00 pm, 2018
Where: Arts Hall, UWTSD, Lampeter Campus.
Inquiries:: Dr Nicholas Campion, n.campion@uwtsd.ac.uk
If you would like lunch on the day then click the button below to register by Wednesday 7 March
Follow this event on Facebook